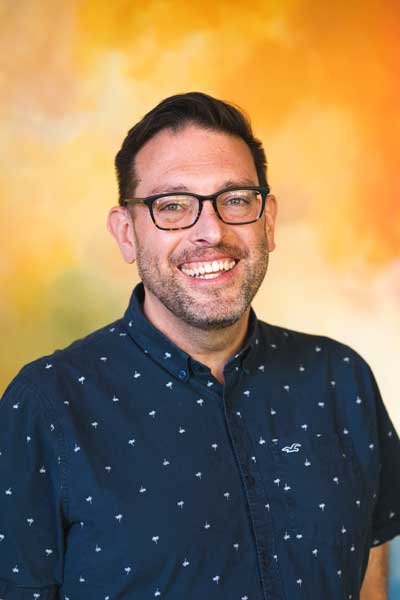 Matt Nightingale
Co-Lead Pastor
Matt is a musician, speaker, writer and spiritual director living and working in the North San Francisco Bay Area. He has been the worship pastor at The Quest since October of 2017 and became co-lead pastor in July 2019. He is also a spiritual director and support group facilitator with The Christian Closet, which offers web-based counseling, coaching and spiritual direction for LGBTQ Christians.
For seventeen years, Matt worked as a worship pastor in the Evangelical Covenant Church, serving churches in Redwood City, CA; Houston; Tulsa; Seattle and Santa Rosa. He is a graduate of the Spiritual Director Formation Program at The Journey Center in Santa Rosa and currently serves on its board of directors.
As a gay Christian, Matt is passionate about the intersection of sexuality and spirituality, and he works to create safe, sacred space for people exploring these identities. His TEDx talk, Choosing Gratitude and Hope, with his former wife, Luanne Nightingale, tells their story of mixed-orientation marriage, an evolving understanding of faith and sexuality, and the painful but necessary choice of divorce, all within the context of gratitude and hope.
Matt is the husband of Alejandro and the proud father of four adult children: Joshua, Jacob, Emily and Zachary. 
Tony Gapastione
Co-Lead Pastor
Tony served as an ordained pastor for twenty years and is a graduate of Fuller Seminary. He serves as a pastor at large speaking and teaching congregations all over the Bay Area. He's a SAG-AFTRA actor and loves being behind the camera writing, directing and producing. He has short films on Amazon Prime and he's currently producing, writing and directing feature films.
Tony is passionate about his faith and creativity believing that brave stories have the power to effect change. He writes, directs and produces as a freelance filmmaker and hosts community dialogues with his non-profit BraveMaker. Through monthly film screenings and a summer film fest he faciliates brave/safe spaces on our culture's most pressing issues.
He and his wife, Wendy have three daughters and live in Redwood City, California. For more info go to www.bravemaker.com.
Christine Reyes
Staff Support
Christine was born in Manila, Philippines, grew up in Chicago, and received her general education from the University of the Philippines. She has also lived in Melbourne, Australia; Seattle and San Francisco. She has worked with children for many years, including nursery care and youth group leader at Park Presidio Bible Church in San Francisco, YMCA childcare staff, children's leader with Bible Study Fellowship International, and as Assistant Teacher in Novato preschool centers. Christine, along with her husband David and three children began attending The Quest in 2004. She was Kids' Quest director from 2007-2020. Christine and David have lived in Novato since 1998. Their children are now young adults, and they have one grandchild.
David Reyes
Facilities/Audio-Visual Director
David was born at Hamilton Air Force Base in Novato and grew up moving back and forth between the US and the Philippines. David studied Mechanical Engineering at the University of the Philippines, Computer Science at Sacramento State University and Graphic Design at the Academy of Art in San Francisco. David is able to wear many hats, leading and lending support wherever and whenever it is needed. He first started out by playing bass with The Quest worship team in 2005, then became part-time worship leader in 2008. From 2014 to 2018 he added administrative director to his Quest duties. In 2018, David took on the role of facilities director, and in 2020 added audio-visual director to his roles. David is an IT technician with the Novato Unified School District. He and his wife Christine live in Novato. They have three grown children and one grandchild.
Paul Rogers
Bookkeeper
Paul grew up in Corte Madera, went to Redwood High School and then University of Oregon to study Math. After that, he moved to Portland and then Washington, D.C., where he taught science to high school students with learning disabilities. More recently, he moved back to San Francisco and started bookkeeping.
Two years ago, he married his best friend of twenty years, Stella. They currently reside in San Rafael. He enjoys cooking, gardening, tennis, sailing, and anything outdoors.
Kitsune Chan
Technology Director
Kitsune grew up in Lucas Valley, went to Terra Linda High and Harvey Mudd College in Claremont, where she studied Computer Science. Following graduation, she went to Japan for a video game internship with the Tecmo Corporation where she worked on games like Monster Rancher and Fatal Frame. Kitsune continued living there for another fourteen years, teaching English, managing IT departments and doing tech support, leading and hosting a bilingual Bible Study, learning sound engineering, and immersing herself in Japanese culture.
Kitsune moved back to the U.S. in December 2015, right back into her childhood home in Lucas Valley, started attending The Quest in April 2019, and joined the staff July 2019. She enjoys tennis, swimming, video games, and anime.
Our Leadership Team
If you would like to send a message to the Quest Leadership Team, please click here to send us a message.